We have settled into our first week of high school and in the past few days, I've also finished the online course, "Making money making art". While there was a bunch of information I learned which will come in handy - I also recognised what kind of artist I
didn't
want to become.
I didn't want to become someone who ONLY sees money as incentive to create art. Neither did I want to put my life on hold to make it all about my art either. When I look back at these past few weeks - how hectic they've been, with very little room for making art, I recognise that I have a pretty amazing life! The art is the bonus when I can fit it in, but I have some wonderful people to share my life with in the meantime.
I can see my creative life and family, marrying nicely, without there needing to be a downside.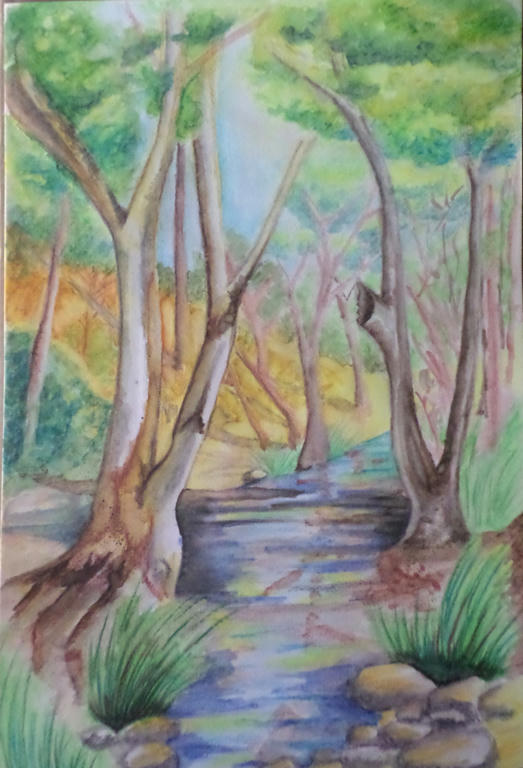 I have managed to squeeze in some time to complete my watercolour picture though. It was a very patient process, which in hindsight I enjoyed. I got some feedback from my mum when she came to visit, to spread the blue around the rest of the scenery - which I did in the tree leaves, about the middle canopy of the front two trees. Making it slightly darker added depth, but also linked the blue up with the water.
My mum even suggested I break the banks (so to speak) and let the water spill behind the tree, to break the bottleneck happening in the middle. I was surprised how these little changes made a significant difference. While I couldn't lift the heavy blue from the water, I could spread it around the scenery to soften the water's intensity.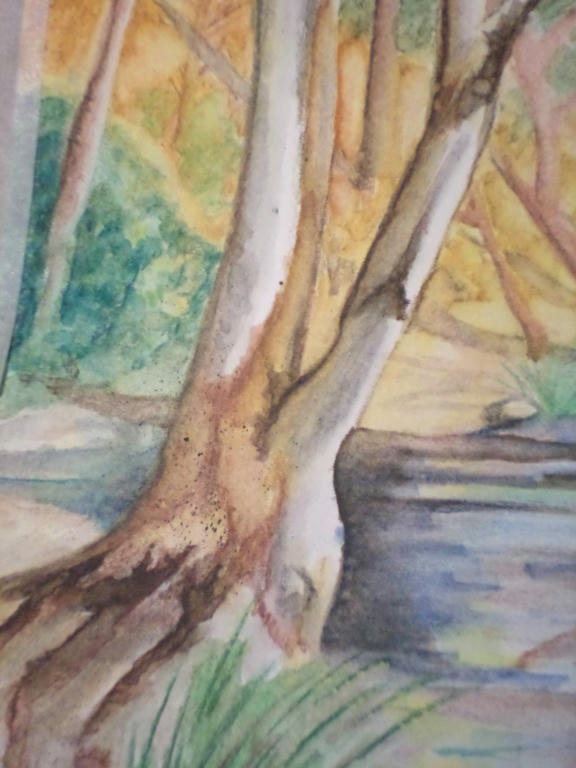 Thanks to Linda's
youtube
suggestion, I even learned some new techniques for improving the bark on the trees. The "vein" technique the artist used in the video to make flower petals and leaves, I used to make the bark. I was very pleased with the results. I even did some more splattering.
While I don't believe I saved this picture completely, I'm happy that I saved it from the bin! I learned a lot from experimenting with how the water reacted to the colour, even with pencils.
I still have a lot to learn with this medium, but the greatest lesson I'm taking away from this exercise, is not to give up. Plodding along is what I do best anyway. Thanks to others who also shared their feedback here, and it was Linda especially who kept me at this picture. I was going to give up on it, but you said not to - so I found a way to make it work a little better. So thank you Linda.